Every year in Munich, Germany, and throughout the world, millions of people celebrate Oktoberfest. This autumn event is all about Bavarian culture—and it's filled with cuisine, rides, games, and plenty of German beer.
If you're planning to attend one of these folk festivals this year, you might wonder whether it's possible to do so without drinking too much alcohol. Knowing how beer-focused Oktoberfest can be, is there a way to take part without going overboard?
Thankfully, yes—it just takes a little strategy and planning. Below, find five of the best tips and tricks for drinking responsibly at Oktoberfest, and some other common questions about limiting how much you drink at these festivals.
Want To Moderate Your Oktoberfest Drinking? Try These 5 Tips
While Oktoberfest offers many attractions, it's mainly known for being the world's largest and most extravagant beer festival. And this can make moderating your drinking tricky—especially when you're seeing beer tents and alcohol vendors around every corner.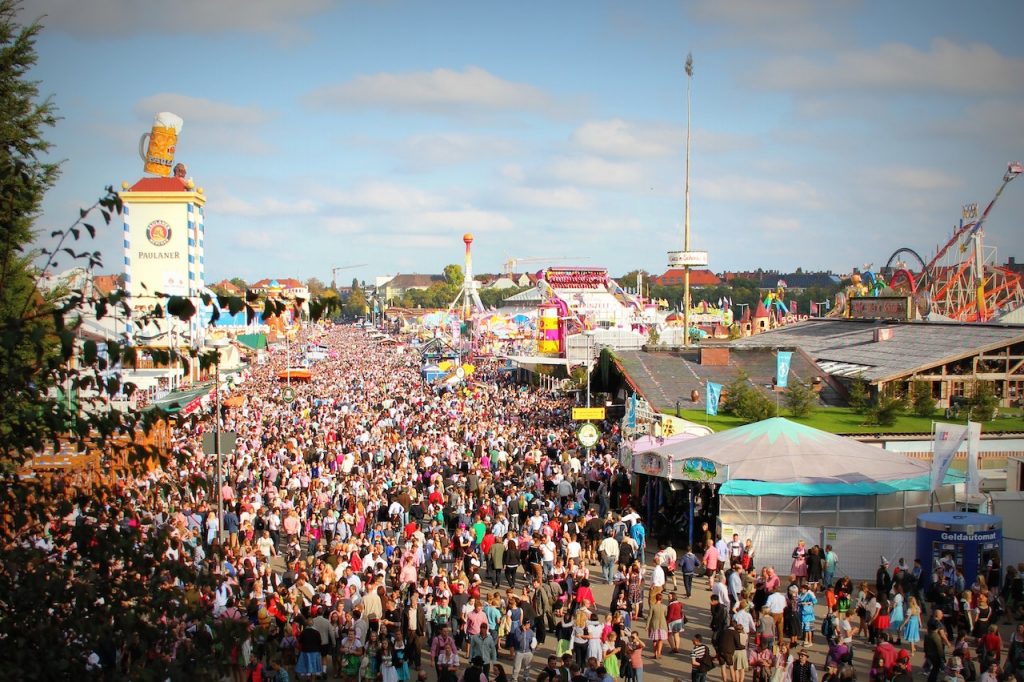 Fortunately, we spoke with Ria Health coach Julie Newlin for some advice. Below are five of her top tips for keeping your Oktoberfest drinking in check.
1. Keep Your Body Hydrated
Julie's first moderation tip is to drink plenty of water. Water not only helps you fend off the dehydrating effects of alcohol, it also forces you to space out your drinks. This makes it easier to manage your intoxication level, feel more alert, and make better decisions while you enjoy Oktoberfest's many attractions.
2. Eat Plenty of Food
Drinking on an empty stomach can lead to rapid alcohol absorption—meaning if you don't eat ahead of time, a single Oktoberfest beer could cause you to get much more intoxicated than you originally planned. On the other hand, a solid meal before drinking can slow down the speed at which your body absorbs alcohol.
With that in mind, be sure to snack on plenty of German food while you explore the festival!
3. Pace Yourself
The key to not going overboard with alcohol is knowing how to pace yourself. When you get intoxicated too quickly, your judgment can become clouded—potentially leading to poorer decisions around how much (and how fast) you drink.
So, how can you pace yourself during Oktoberfest? Here are a few helpful strategies:
Alternate your alcoholic beverages with a bottle of water
Set your maximum pace. For example, you could limit yourself to the equivalent of one standard drink per hour. (Oktoberfest beers are often larger and stronger than normal, so you'll have to adjust accordingly.)
Focus on trying the various foods between drinks
Use your phone or a notepad to track how much you're drinking
Read more: How To Control Your Drinking at a Party
4. Identify and Respect Your Limits
When trying not to overdrink, it's crucial to identify—and stick to—your limits. In other words, be practical and honest with yourself about how much you can handle, and do your best to stay under that amount.
And if you feel like you're nearing your limit while at Oktoberfest, have a backup plan in place. For example, you could plan to head to the nearest bratwurst stand, chug a water bottle, or sit outside when you need a break.
5. Plan a Safe Trip Home
Julie's final tip is to make a solid plan for getting home (or to your hotel) once the day is over. It's best to plan on not driving if you're going to consume alcohol. Instead, ask a friend to be a sober cab, or arrange for an Uber or Lyft to take you to your destination. This ensures you'll end the day safely, regardless of how much you do or don't drink.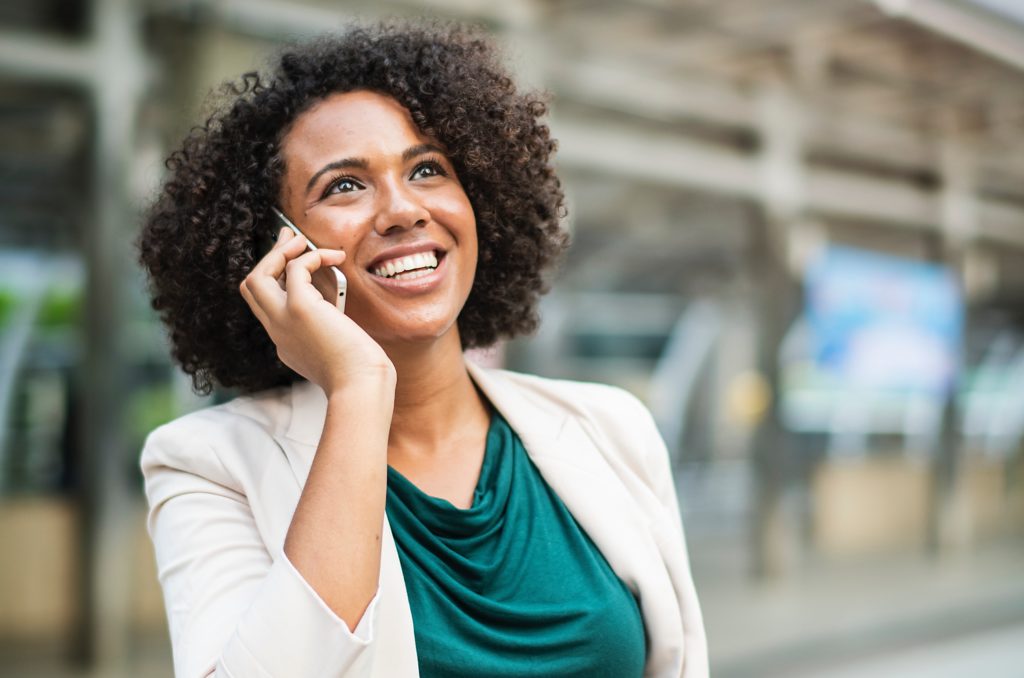 Need Help or Have Questions?
Schedule a private call with a Ria Health team member and we can help you get started.
How Strong Is Oktoberfest Beer?
When attending Oktoberfest events, watch out for beer strength. Oktoberfest beer can carry a surprising amount of alcohol, with the majority of options sitting at around 6% alcohol by volume (ABV).1 On top of that, the brews are often sold in 1 liter mugs. So, be sure to factor this in when deciding your limits for the day.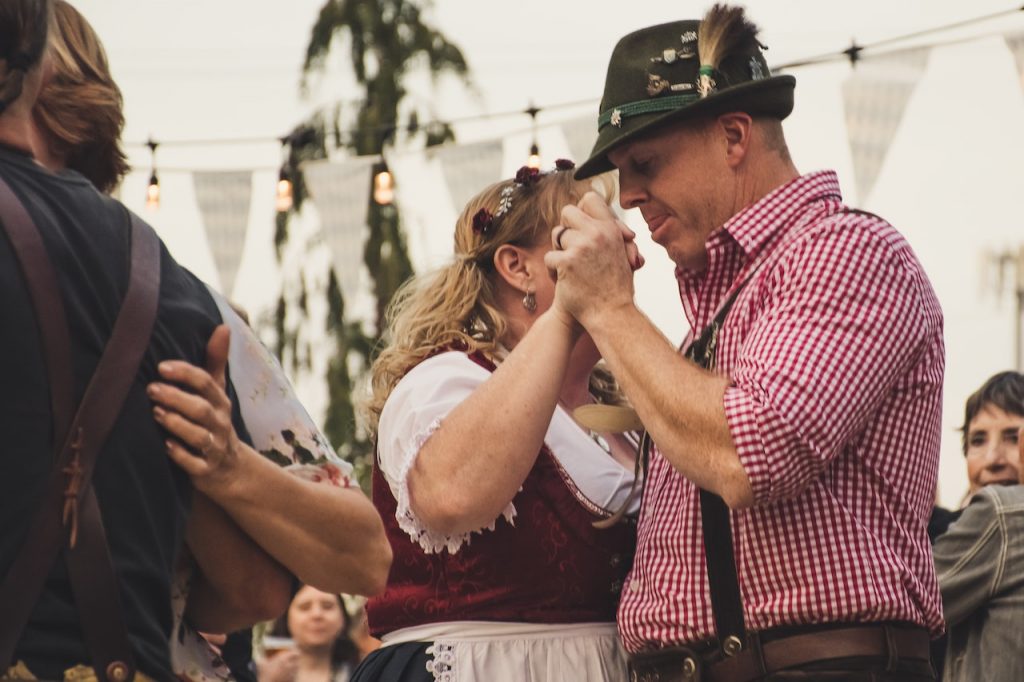 For instance, if you'd typically have three beers over a several-hour-long festival, you might find that a single Oktoberfest beer is all you need.
What Are Some Oktoberfest Drinks Other Than Beer?
Pure Bavarian beer is far from the only beverage option at Oktoberfest—so don't hesitate to mix it up! Some other options you can grab include:
Sodas
Lemonades
Sparkling water
Nonalcoholic Oktoberfest beer
The Bavarian drink known as Spezi, a combination of cola and orange lemonade
Fruchtschorle, a nonalcoholic blend of fruit juice and sparkling water2
What Are Some Fun Things To Do at Oktoberfest Besides Drink?
While Oktoberfest is essentially a giant beer festival, it also offers tons of other ways to have fun. And if you're trying to drink responsibly, it can help to spend some time enjoying these other activities. Try:
Sampling a wide variety of food. Check out the food stands with sausage, pretzels, roasted chicken, and the endless other German favorites to try.
Going on a few rides. Pay a visit to the Ferris wheel, toboggan, rollercoasters, and more! (Tip: If you're going to be on any fast-paced or spinning rides, be sure to save the beer for after.)
Watch live performances. Most Oktoberfest celebrations will feature live folk bands and other Bavarian-style entertainment throughout the festival.
Shopping around. Aside from the beer tents, you'll find plenty of vendors offering souvenirs, knick-knacks, and other fun gifts to take home.
What To Remember Before Oktoberfest
Oktoberfest is an exciting time of year, but it can be tricky when you're practicing moderation. Fortunately, with the right approach, you can still have a great time without going overboard.
Before you head out, consider your limits, how much you'd like to drink, and the strength of the beer you'll be having. And don't forget to indulge in the non-drinking parts of the festival—such as the authentic food stands, live music, rides, shops, and more.
For more help sticking to your drinking goals during Oktoberfest and future celebrations like it, Ria Health can help. Book a call today to learn how you can receive comprehensive support—from anti-craving prescriptions to recovery coaching and more—all from Ria's smartphone app.