Since 1949, Mental Health America has coordinated "May Is Mental Health Month," a national effort to raise awareness of mental health issues. The organization (and others around the country) makes materials available to spread the word.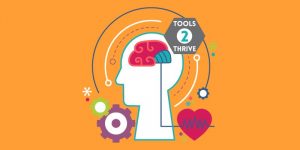 One of the priorities of Mental Health Month is to reduce the stigma of seeking treatment. Many who might benefit from help suffer shame. They feel that society looks harshly at people with mental issues (which is still sadly true in some circles). But depression and anxiety can be debilitating. And they can happen to anyone, even to those who might generally consider themselves mentally healthy.
There are many ways to make sure your brain is on the right path. Read on for more information, and share this article with your friends.
What Does Good Mental Health Mean?
What does having good mental health mean? Keeping your brain healthy is important. Dr. Alex Lee, Ria Health's director of coaching, calls it "emotional hygiene." Think of good mental health as the control panel for your life. It's difficult to do much of anything if you are hobbled by depression, anxiety, stress, insomnia, or other conditions.
And part of the irony is that many people use alcohol to try to solve mental health problems—but drinking only makes things worse. This can be especially true for those prone to "emotional blunting," who find it difficult to experience feelings.
Self-Care Can Be Your Best Friend
If you're caring for children, aging parents, or other loved ones, it can be easy to neglect self-care. Sometimes we forget that, in order to help others, we have to tend to our own mental health. As airline staff are quick to remind you before takeoff, "Put your own oxygen mask on first."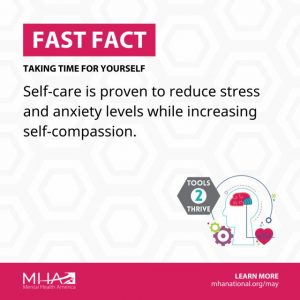 Maybe this means a relaxing bath. Taking a walk is always a good idea. Some people find cooking an effective distraction.
Here's one of Dr. Lee's tips, a short sequence focusing on body awareness and relaxation. It can be done anywhere, any time. Without any stress, let your head fall to one side, relaxing your face and neck, "as if drops of water are dripping off your nose." Hold for about ten seconds, repeat with the other side, and then do the same thing with your head leaning forward. When you finally raise your head to its normal upright position, you will likely feel more relaxed.
Dr. Lee and the rest of our team can recommend other techniques, such as breathing exercises. They don't take up much time, and can make an enormous difference in your daily outlook.
And Then Came COVID
When COVID-19 arrived, it created an unprecedented situation. Millions of Americans were unable to congregate, fly overseas to relatives' funerals, or visit loved ones for family events. By all accounts, 2020 was a year ripe for mental health issues—and not just for Americans, but people all over the world.
As Mental Health America advises, "The COVID-19 pandemic has had a profound impact on the mental health of people of all ages. Now, more than ever, it is critical to reduce the stigma around mental health struggles, because that stigma often prevents individuals from seeking help."
Some professionals have warned that the pandemic will leave an enormous wave of mental health problems in its wake.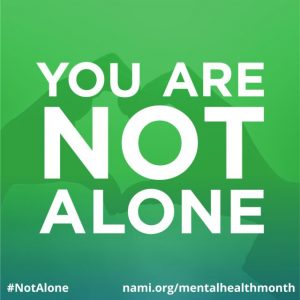 Steps You Can Take to Promote Better Mental Health
Now there are apps available to help encourage better mental health. Just like our telehealth-based method, these can all be done at home, or anywhere you like.
At Ria, we recognize that alcohol use disorder (AUD) and mental health issues often go hand-in-hand. And if you realize you're drinking too much and want to cut back, we're here for you. Our method is done at home (or wherever you like). There's no getting in the car to drive to a group meeting, no waiting at a doctor's office. All you need is your smartphone. Get in touch with us and find out about the 21st-century way to get alcohol under control.
Remember: You are not alone. And like many initiatives, good mental health is worth thinking about, not just in May, but all year.