Looking for help cutting back this holiday season?
Call us at 800-504-5360 or Start Now
If you'd like to stay sober, or drink less this holiday season, you're not alone. Many of us feel alcohol plays a bigger role in the festivities than we'd like. Often, we feel the consequences once the merriment subsides—maybe we've packed on a few pounds, or feel foggy and have low energy when we return to work. But how to avoid alcohol if it's become a big part of our holiday rituals? What are some fun sober things to do if you want to have an alcohol-free holiday season?
The truth is, when most of us think back to childhood, our fondest memories of the holiday season generally have nothing to do with alcohol. It turns out, there are many ways of keeping the holiday spirit alive without drinking a single drop. Whether this is your first holiday since quitting drinking, or you're trying to stick with long-term moderation, here are 17 fun things to do sober for the holidays.
1. Try a mug of hot cocoa or hot apple cider instead of drinking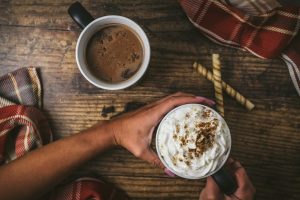 Sure it's extra calories, but hey, it's the holidays! Plus, it may bring back fond memories of childhood, and all of the fun you had without drinking any alcohol. Pull out the Christmas mug, add some fresh whipped cream or sprinkles, and treat yourself!
2. Watch your favorite Christmas movies
Consider creating a lineup of all the ones you like best, and watch a few every week leading up to the holidays. Odds are, it'll get you in the spirit of the season, and bring back fond memories.
3. Have a tree-decorating party
If you celebrate Christmas, perhaps setting up the tree has begun to feel like a chore. If you're looking for festive things to do sober, why not make a fun holiday event out of it? Take your time picking the right one, put on some of your favorite Christmas tunes, and then invite some friends or family over to eat and socialize while hanging the ornaments. It's a great excuse for an alcohol-free holiday get-together, and it's one of the best ways to get that Christmas feeling.
4. Do some baking
As the nights get colder, nothing says comfort like a warm oven and the smell of fresh cookies. If you're looking for fun sober activities, why not try baking? Not only can it be entertaining, it also gives you another thing to share with friends and family members that doesn't involve alcohol. You can even give your desserts a holiday twist: make cookies shaped like Christmas trees, snowmen, or candy canes, and add some colored frosting!
5. Go shopping for Christmas decorations
Thrift stores are a great way to stock up on lights, wall hangings, wreaths, and other festive items for a good price. And if you feel like making a bigger investment, why not go for a more ambitious display and have some fun with it! Decorating your house inside and out can be a nice creative project, and a great way to distract yourself from drinking alcohol.
6. Attend local holiday festivities
Is there a Christmas tree lighting ceremony in your town? A local theater production of Scrooge? Perhaps there's a caroling group you can join, or a holiday bazaar where people share homemade arts and crafts. Odds are, there are some fun sober ways to celebrate in your community. Be sure to follow local health protocol, but otherwise, if it's safe, enjoy the alcohol-free holidays with the rest of your town!
7. Go play in the snow!
If you live in a colder climate, this can be a great way to get into the holiday spirit. Build a snowman, make snow angels, or even get in a friendly snowball fight if you're up for it! Sometimes life gets too serious, and it's nice to take a moment to be playful. Playing in the snow is a great way to enjoy yourself and let loose—without having to consume any alcohol.
8. Get creative with your gift wrapping
Just like picking out a tree, this can start to feel like a chore for some people during the holidays. This year, why not buy some extra special wrapping paper, or try creatively "disguising" your gifts? Make a book look like a basketball, or make some special paper decorations to put beside the name tags. Make your gifts into works of art, and have some fun!
9. Go ice skating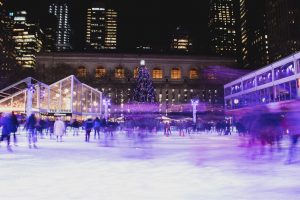 Is there a skating rink near your house? When was the last time you went? If it's your kind of thing, invite a friend and make an evening of it. If it's not, it can still be fun to go and watch people circle the rink together. Get a hot cider, take in the atmosphere, the lights, the music, and remind yourself of the joys of the winter season.
10. Volunteer at a soup kitchen
Nothing could be truer to the spirit of Christmas, or any other holiday for that matter, than helping out in the community. Many soup kitchens make a special holiday meal for people who don't have family, or the means to eat a hot meal at home. If you're wondering how to stay sober at Christmas, and keep you mind off alcohol, what could be better than giving to others?
11. Join a gift drive
On the same note, there are many children whose parents cannot afford to buy them gifts for the holidays. There are often gift drives at local businesses, religious centers, and community organizations. It can be a fun and heart-warming experience to go out shopping for a child, and you'll know you've made a big difference in someone's holiday—spreading some real seasonal joy.
12. Go visit Santa
Why not? Just the experience of going to see Santa Claus—whether you sit on his lap or not—can bring back all kinds of fond memories. Bring your kids, nieces, nephews, or join a family you're close with. Say hello to your local Santa and elves!
13. Create fun holiday mocktails
We've mentioned hot cocoa and apple cider, but why not add alcohol-free hot toddies, eggnog, or "hot buttered rum" (sans rum) to the mix? Christmas can be a nice time to revisit childhood memories, but you can still host a fun holiday party for the grown-ups by serving creative non-alcoholic Christmas drinks. Invite some sober friends over, and experiment with some festive mocktail recipes together. If you know others who have stopped drinking, this can be a great way to celebrate and not put your recovery at risk.
14. Write your own Christmas story
If you have fond memories of celebrating Christmas, try capturing them through a short story! Make a book to share with friends and family, publish it online as a blog, or simply keep a copy for yourself. This can be a fun way to bring memories back to life, and pass the story along.
15. Put together a holiday puzzle
If you feel like staying cozy indoors, consider buying a festive holiday puzzle, and setting it up on your table. This can give you something relaxing to work on during a quiet, snowy evening, while keeping your mind occupied.
Go to your local arts and crafts shop, or buy a kit online. Make your own ornaments, decorations, or holiday cards. These can make great gifts for others. It can also just be a fun way to spend time, either with friends or on your own.
17. Get yourself a really special gift
If you've decided to go alcohol-free this holiday season, give yourself a nice reward. Perhaps you've worked hard to make some important changes this year. Show yourself that you're proud of all the effort you've put in. You can even wrap it up nicely and put it under the tree for yourself on Christmas morning!
If you've made a goal of cutting back or quitting alcohol during the holidays this year, we congratulate you. We also know that an alcohol-free holiday can be hard without a strong support system. Ria Health is available to help, no matter the time of year. Our online treatment program offers coaching, medications to reduce cravings, virtual support groups, physician managed care, and much more—all through a convenient smartphone app. You no longer need to put your life on hold to change your relationship with alcohol.
Get in contact today, and learn how we can help you get through the holidays, alcohol-free.