Studies reveal that 20 percent of US adults use alcohol to help them fall asleep. But, as we've discussed in a previous post, this generally only helps at the beginning of your sleep cycle. Alcohol's sleep-inducing effects tend to dissipate by the middle of the night—and even make your sleep quality worse! So, how else can you get some needed shut-eye? Why not try one of these five best sleep apps!
Below, we'll list some popular, digital alternatives to that evening nightcap, in no particular order. Who knows, one of these sleep apps may just become your new go-to bedtime ritual!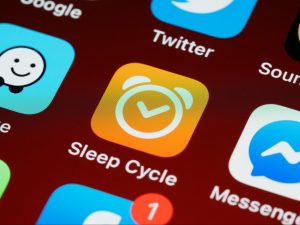 1. Sleep Cycle
Launched more than a decade ago, Sleep Cycle was one of the first smart alarm clocks to hit the market. It has remained a favorite among many users, even after numerous other apps have emerged.
The app tracks your sleep and wakes you up during the lightest phase, which makes you feel optimally rested and refreshed. You can also use the intelligent snooze function, gradually preparing you to rise up afresh.
Sleep Cycle applies vibration analysis to determine your stages of sleep, using a built-in microphone or accelerometer. It doesn't offer complicated metadata, but it can be a great choice if you simply want to learn about your overall sleep patterns to adjust your sleep habits.
2. Pillow
The Pillow app tracks your sleep patterns, showing you precisely how long you've spent in each sleep stage, your heartbeat throughout the night, and even a sleep quality score. It is available for apple watch, iPhone, or iPad.
Like Sleep Cycle, Pillow has an intelligent alarm clock that wakes you up at the ideal time. Even better, it has other features that track moods and help you power-nap.
For best results, you'll generally need to place your device beneath—you guessed it—your pillow!
3. Pzizz
Pzizz is an acclaimed sleep sound app—NBA star Roy Hibbert even credits it for the curing of his insomnia. But what makes it so special?
The Pzizz app developers have used the science of psychoacoustics to identify sounds most effective for each sleep cycle. These audio backgrounds help gradually walk you through sleep until your desired waking time. And studies show that soothing sounds, such as music, can help improve sleep quality.
Pzizz gives you a broad library of audio sequences and soothing voice-overs, integrated with proven clinical sleep interventions. Even better, as Pzizz gets to know your sleep patterns, they send customized audio to help you get quality sleep even more easily.
4. Headspace
We've already listed Headspace as one of the best meditation apps out there. It also happens to be excellent for guiding you to a peaceful slumber. Even the free version offers "sleepcasts"—audio experiences that help you fall asleep naturally. Like bedtime stories for adults.
The free version of headspace gives you a more limited (though still very useful) selection. But users who upgrade get access to a full library of more than 40 themed courses, fresh meditations daily, diverse sounds, and sleep exercises.
The best part is, with Headspace, you can get meditations for everything from anxiety to sleep. This app not only boosts your ability to sleep, but also helps with your health and well-being overall.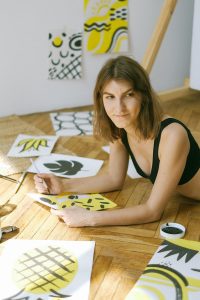 5. Recolor
If you're looking for a creative alternative to conventional sleep apps, Recolor might be a great option. It's essentially an adult coloring book to help your mind rest, relax, and sink into a meditative state. The calming effect of these exercises can help you fall asleep faster and stay asleep longer.
The Recolor app renews pictures daily, so you likely won't be bored. Everything from animals to unique patterns is available to help you channel bedtime anxiety into a satisfying achievement. And who knows, you might re-discover your inner artist!
Why Try a Sleep App?
Some are skeptical as to whether sleep apps can really make a difference. In fact, many experts agree that these apps have their limitations. There is no magic bullet where insomnia is concerned.
What these apps can do, however, is give you a better idea of your habits, and help soothe your mind to sleep without any negative chemical side-effects.
In the below video, Claudia Christian goes over why alcohol, in particular, can have a surprisingly disruptive effect on your sleep:
That doesn't mean, however, that it's always easy to switch from drinking at bedtime to using a sleep app. That's why Ria Health offers another app—to help you cut back on your alcohol consumption from home. We offer weekly coaching meetings, expert medical advice, anti-craving medications, and more—all from your smartphone.
If you're struggling with both alcohol and sleep, why not get in touch with a member of our team today, or learn more about how it works.